Investor Relations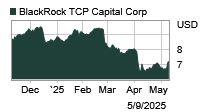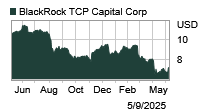 BlackRock TCP Capital Corp. is an externally-managed non-diversified closed-end management investment company focused on middle-market lending. We have elected to be regulated as a business development company, or BDC, under the Investment Company Act of 1940. Our stock is traded on NASDAQ under the ticker symbol "TCPC".
Our investment objective is to achieve high total returns through current income and capital appreciation, with an emphasis on principal protection. We invest primarily in debt of private, middle-market companies with enterprise values typically between $100 million and $1.5 billion, including complex situations requiring specialized industry knowledge. While we invest primarily in senior debt instruments, we have the flexibility to provide financing solutions at any level of the capital structure. With our rigorous approach to due diligence, active investment monitoring and long-term perspective, we are an ideal partner for companies and sponsors seeking a stable source of capital.
Our investment activities benefit from the competitive advantages of our investment advisor, Tennenbaum Capital Partners, LLC (TCP) (www.tennenbaumcapital.com), including the deep skills and diverse experience of its investment professionals, its proprietary deal flow, and its consistent and rigorous investment process.